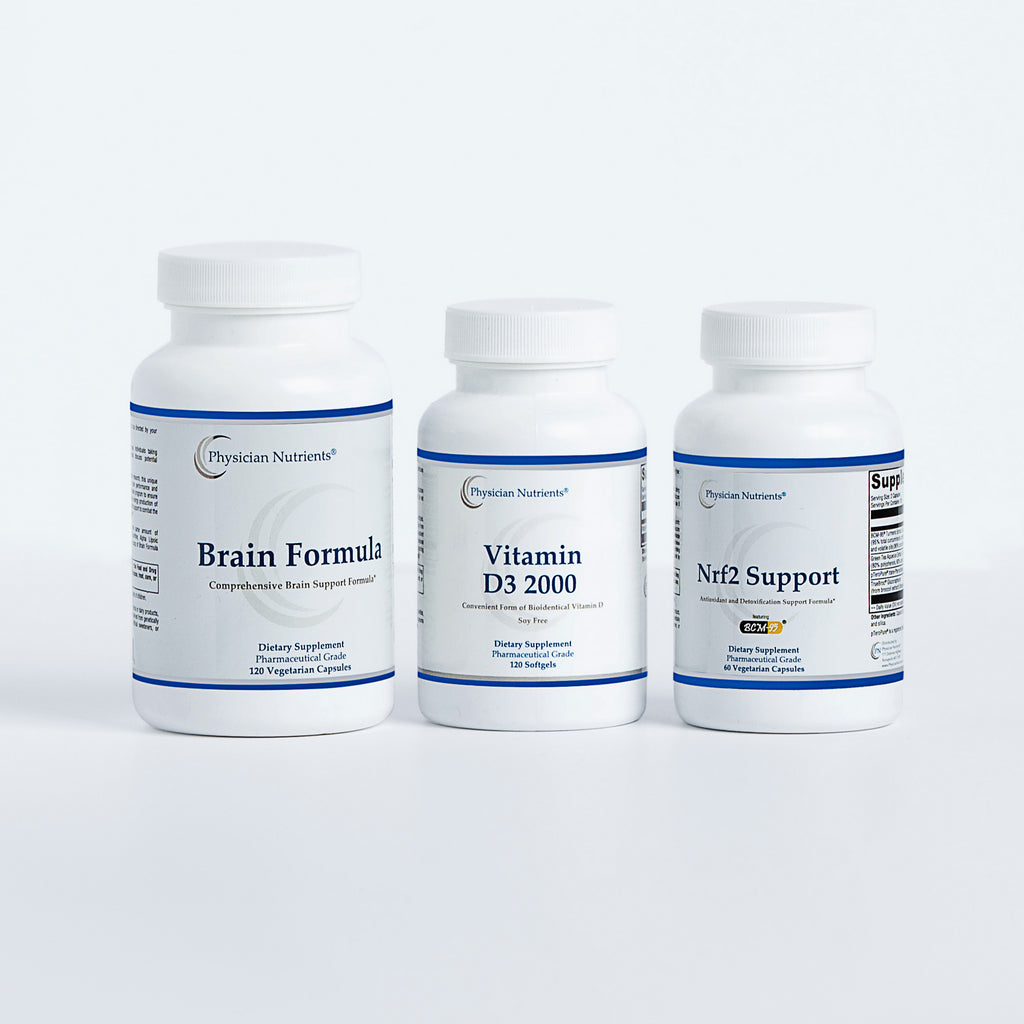 Brain Health: Memory Bundle
or
The Memory Bundle offers a 2-month supply of 3 nutrient supplements that enhance memory performance:

Brain Formula 120 count - 2 Bottles

Nrf2 60 count - 2 Bottles

Vitamin D3 2000 IU 120 count soft gels - 1 Bottle
Details
The Memory Bundle is a 2 month supply of the following: 
Vitamin D3 2000 IU While vitamin D3 (cholecalciferol) is made in the skin when 7-dehydrocholesterol reacts with sunlight, many things affect the degree to which this biosynthesis occurs, including time of day, seasons, location, smog/pollution, clothing, shade of skin (darker skin requires more sun), and sunscreen use. Low-cholesterol diets and certain cholesterol therapies can also affect vitamin D formation. By some estimates, one billion people worldwide have vitamin D deficiency or insufficiency.
Brain Formula is representing more than 30  Brain Formula-years of neuroscience research, this unique encapsulated formula, is designed to enhance brain performance and promote brain health. A key component of the complete program to ensure optimal brain function, Brain Formula improves the energy production of brain mitochondria and provides generous antioxidant support to combat the damaging effects of excess free radicals in the brain.
Nrf2 Support is an exclusive formula designed to activate the Nrf2 genetic pathway. This pathway regulates the production of important molecules that impart antioxidant activity, such as glutathione and superoxide dismutase (SOD). It also regulates the production of detoxification enzymes, including glutathione S-transferase, and downregulates signaling factors such as NF-ϰB for a healthy response to inflammation. Each ingredient in this formula is backed by extensive research in peer-reviewed journals.
  *These statements have not been evaluated by the Food and Drug Administration. These products are not intended to diagnose, treat, cure, or prevent any disease.
Supplement Facts
Brain Formula
Nrf2 Support
Vitamin D3 2000 IU
---
Share this Product
---
More from this collection