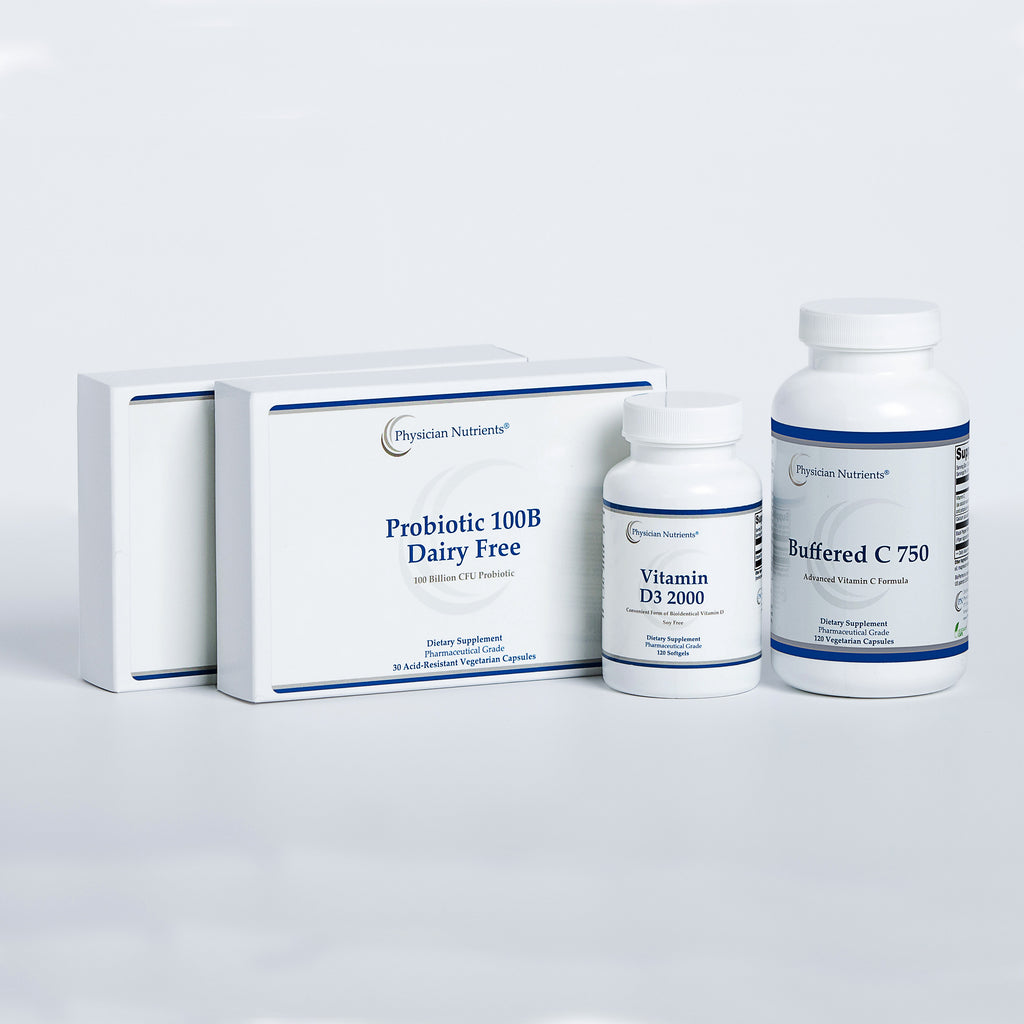 Immune Support Bundle #2
or
The IMMUNE SUPPORT BUNDLE #2 is a 2-month supply of three very important     supplements for immune function:
Vitamin D3 2000 120 count – 1 Bottle
Buffered C 750 120 count - 1 Bottle
Probiotic Daily Dairy Free 30 count – 2 Boxes
Take care of yourself and your immune system with this IMMUNE SUPPORT BUNDLE.
Whether you're experiencing seasonal immune challenges, or just want to take better care of yourself year-round, it's important to support your body's immune function.
See below for more information about each product in the IMMUNE SUPPORT BUNDLE #2.
Details
While vitamin D3 (cholecalciferol) is made in the skin when 7-dehydrocholesterol reacts with sunlight, many things affect the degree to which this biosynthesis occurs, including time of day, seasons, location, smog/pollution, clothing, shade of skin (darker skin requires more sun), and sunscreen use. Low-cholesterol diets and certain cholesterol therapies can also affect vitamin D formation. By some estimates, one billion people worldwide have vitamin D deficiency or insufficiency. Reversing deficiency and maintaining optimal serum vitamin D levels beneficially impacts biochemistry and numerous body systems; this is largely because calcitriol—the metabolic product of vitamin D—is a secosteroid hormone that targets over 200 genes in a wide variety of tissues. As the research demonstrates, vitamin D is clearly imperative for the development, growth, and maintenance of a healthy body from gestation to senescence.

Buffered C 750 is a high-potency vitamin C formula with the addition of 7.5 mg of BioPerine® per capsule. BioPerine, a proprietary black pepper extract, is present to promote absorption and bioavailability of vitamin C. Vitamin C provides valuable antioxidant protection and is necessary for the production of collagen, an integral component of blood vessels, tendons, ligaments, and bone. This essential water-soluble vitamin is required for the synthesis of neurotransmitters and carnitine as well. Buffered C 750 contains buffering minerals to help prevent potential stomach upset.
Probiotic Daily Dairy Free helps maintain a healthy intestinal microecology and supports the natural immune response. This four strain probiotic has been bundled to support your natural immunity during stressful energy depleting daily demands of life.
*These statements have not been evaluated by the Food and Drug Administration. These products are not intended to diagnose, treat, cure, or prevent any disease.
Supplement Facts
---
Share this Product
---
More from this collection